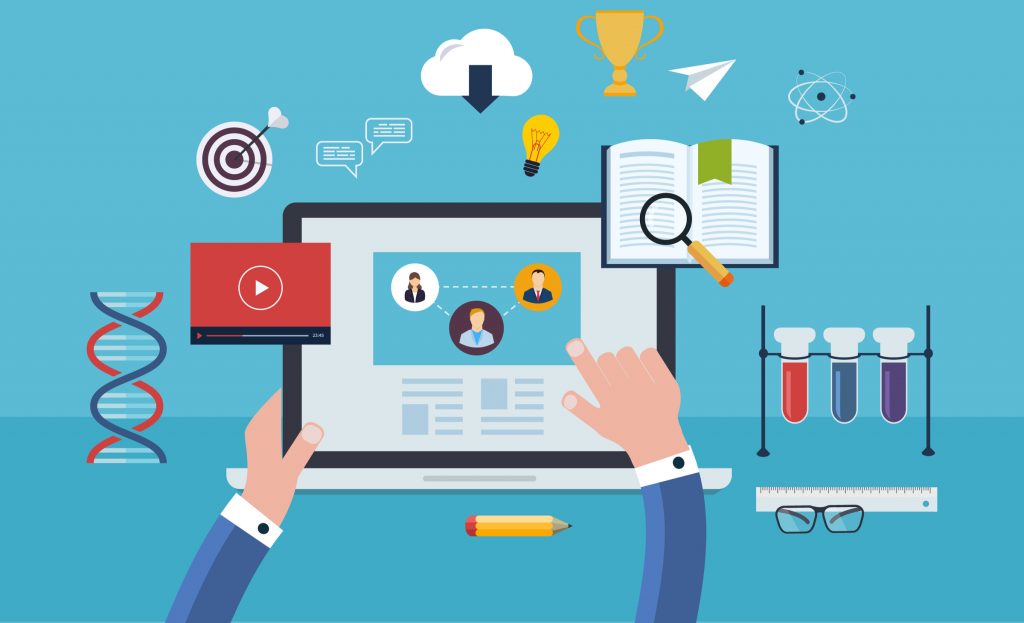 Published/ March 30, 2020
By/ Wang Yutong Olivia, CITE Research Assistant
With all schools closed down in February due to the coronavirus outbreak, nearly 700,000 primary and secondary school students in Hong Kong started their new semester online. When classes on campus are disrupted, learning continues in the virtual space. Thanks to the increasing variety of digital technologies, the boundary between school and home are blurring and learning can take place anywhere and anytime.
How is teaching and learning online different from the traditional classroom? What are the skills teachers need to develop to make learning captivating and effective for students sitting in front of a screen? To learn more about how teachers from our project schools are creating unique online learning experiences for their students, CITE organized the first online sharing session on 14 February. Three teachers were invited to share their practices. More than 70 teachers and principals from our project schools across Hong Kong joint the session. Here are 5 tips shared by our teachers on Online Teaching & Learning:
1. Pedagogy matters
When shifting teaching and learning activities to the virtual space, many schools tend to focus on quantitative indicators: Are there enough lessons in a day? Are the lessons 40 minutes each? Are classes having full attendance? This assumes that children online will automatically learn as if they are in the classroom. This assumption often is wrong. Instead of running the online classes with the same routine in a traditional classroom, teachers can try to embrace the flipped classroom approach. The concept behind the flipped classroom is rethink when students have access to the resources they need most. Teachers can create pre-recorded videos for students to watch before the online class, then students can join the class armed with questions and at least some background knowledge. This doubles student access to teachers–once with the videos at home, and again in the virtual classroom. Teachers can also supplement their videos with additional online resources. One tip shared by our teacher is that each video should not be longer than 10 minutes as students' attention spans are usually short.
➡️Learn more about Online Pedagogy
2. Use assessment data to inform teaching
Data is a powerful teaching tool! Online teaching and learning offers an exceptional opportunity for teachers to collect data on student learning to inform instructional decisions. In fact, when it comes to teaching online, many teachers ask the questions: How will I know what kind of progress students are making? How can I adjust my instruction to meet students' needs? One way shared by our teacher is to make use of Google Form. Google Form can serve as a tool for formative assessment to support teachers' inquiry into students' learning, offering instant analysis of students' responses. Teachers can then allocate their airtime more effectively based on the gaps and misconceptions identified. With the timely evidence on students' readiness, teachers can follow up with live group or individual consultations on ZOOM to offer differentiated instruction, creating more opportunities for personalization and more precise guiding of learning.
➡️Learn more about Online Teaching and Learning Tools & Practices
3. Make students feel motivated
Many of the factors that hold true in the traditional classroom also apply to online learning. For example, students need to feel that they have some control over the aspects of their learning. Teachers can offer them some options in deciding what they want to learn and how they want to learn during the online sessions. Creating opportunities for them to share something from their own lives either at the session or through videos, and respond to their peers' sharing could be another way for students to feel engaged and connected. In addition, many learning management systems allow teachers to assign batches and reward students for their achievements. Moreover, giving clear instructions on pre-class preparation and setting expectations on in-class activities helps students to stay informed and make the online sessions more productive.
4. Use a mix of tools for better engagement
We are lucky to have a wide range of software and Apps at our disposal to facilitate virtual communication and collaboration. Be adventurous and creative in choosing tools that best serve your purpose.
Lesson recorders
Explain Everything is an online interactive whiteboard platform where teachers can record their teaching for students to view at their own time and pace. While a more extensive version of Explain Everything may require payment.
Apowersoft is another free option of online screen recorder recommended by our teachers.
Learning Management System
Google Classroom is a free web service developed by Google for schools. Teachers can create, distribute and grade assignments on the LMS in a paperless way.
Schoology is a social networking service and virtual learning environment for K-12 school and higher education institutions that allows users to create, manage, and share academic content.
iLAP is a Moodle-based Learning Management System where teachers set up courses and engage students in a variety of online learning activities, including group works.
Synchronous Collaboration Tools
Zoom and Google Hangouts are both user-friendly conferencing tools for teachers to have live sessions with multiple students.
There are many tools out there for you to designing both synchronous and asynchronous activities to fit your teaching purpose and increase student engagement with both the teacher and other learners.
➡️Learn more about Online Teaching and Learning Tools & Practices
5. Every cloud has a silver lining
Although the school suspension was unexpected and disrupted our teaching schedules, it is an opportunity for all of us to slow down, reflect on our routines and even pick up some new thoughts and skills along the way. Some of our teachers took the opportunity to introduce a new learning management system to their students for better self-directed learning; others acquired new knowledge and skills for creating engaging online learning environment and activities as professional development. It's also worth taking some time to think about what online teaching and learning activities can be integrated into the curriculum when schools resume. To a certain extent, the current situation enables us to take a peek at the future of education and learning, which could be highly personalized, self-directed and technology empowered. It seems that the Future of Education has arrived early. Are we all prepared?